Laser and Additive Laboratory
EOS M 100 metal 3D printer, additive manufacturing system
Laser diagnositcs
COHERENT LM5000 laser measurement
COHERENT LabMaster Ultima laser measurement
Environmental Resistance Laboratory
Sheen salt chamber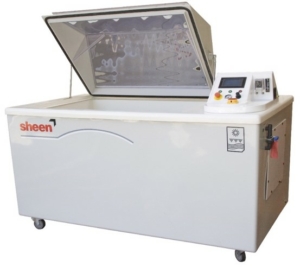 Corrosion resistance tests can be performed in the Sheen FMS-100 salt chamber.
The device sprays salt solution in a separate container according to the previously stored program on the components placed in the internal enclosure.
The resulted deposits on the surface of the parts, cause a strong corrosion load.
Paremeters:
Dimensions: 1120x780x935 mm
Nominal capacity: 1000 liter
Investigation mode: Programmed cycles
Temperature range: Ambient…+80 °C
Registration number: M08005
Manufacturer: Sheen Instruments Ltd.
TIRAVIB vibrating roller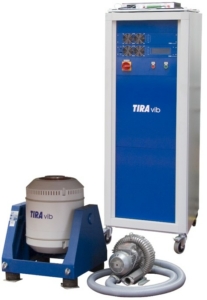 Mechanical load tests can be performed on the TIRAvib TV5500 LS vibrating roller. After setting the pneumatic home position, a computer-controlled electromechanical actuator executes the displacement or acceleration curves specified in the program.
Agree tests can be performed in combination with the Anyvib climate chamber.
Parameters:
Maximum load: 54 kg
Maxiximum stroke: 50.8 mm
Frequency: DC … 3000 Hz
Maximum forces: 4000 N (sinus); 4000 N (random); 8000 N (shock)
Weight: 750 kg
Registration number: M08003/M08004
Manufacturer: TIRA Schwingungtechnik
CST320 heat shock chamber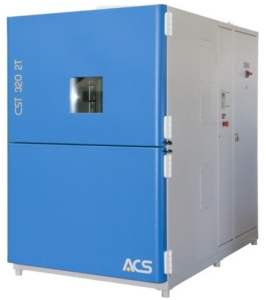 CST320 heat shock chamber
The CST320 heat shock chamber is a device for climatic testing of large components. The inside of the chamber is divided into two compartments and the temperature can be controlled separately in the these. By setting different temperatures in the two compartments and then moving the tested part from one compartment to another in a short time, the effect of the thermal shock can be examined.
Parameters:
Registration number: M08001
Dimensions: 700x700x650 mm
Temperature range: Upper compartment: +70 oC …+220 oC; Lower compartment: +60 oC … -80 oC
Temperature accuracy: +/- 1 oC
Container size: 320 liter
Container movement time: <10 s Manufacturer: Angelantoni Industrie SpA
Anyvib climate chamber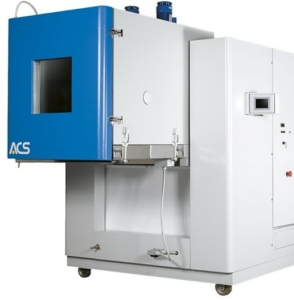 The Atestor climate chamber is a device that can be used for climatic tests of large components. The temperature and humidity inside the chamber can be varied over a wide range. The computer-controlled equipment executes a program of associated temperature and humidity points are programmed manually or with a computer connected to it. In combination with the tiraVIB vibrating cylinder, it is also possible to perform "Agree" tests.
Parameters:
Registration number: M08002
Dimensions: 1000x1090x1130 mm
Temperature range: -40 oC … 180 oC
Temperature accuracy: +/- 0.1 oC … +/- 0.8 oC
Speed of temperature change: +/- 10 oC/min
Humidity range: 10% …98%
Can be combined with: TV 5500 LS
Manufacturer: Angelantoni Industrie SpA
Eliog climate chamber

Eliog climate chamber
The Eliog climate chamber is a device for climatic tests of small and medium-sized components. The temperature and humidity inside the chamber can be varied over a wide range.
Parameters:
Dimensions: 1000x1090x1130 mm
Temperature range: -75 oC … 180 oC
Temperature accuracy: +/- 1 oC …+/- 0.8 oC
Speed of temperature change: 10 oC/min
Humidity range: 10% … 98%
Manufacturer: ELIOG Industrieofenbau
Shaker machine controller

Shaker machine controller
Field of application: Control and regulation of electrodynamic shakers, conditioning and processing of acceleration sensor signals.
Parameters:
Number of channels: 4
Sensors: ICP vibration sensors
Sinusoidal control frequency: 0,1…20000 Hz
Random control frequency: 0,5…20000 Hz
Sampling frequency: max 52000 Hz
PC communication: Ethernet (100 kB/s)
Type: VR 8500
Manufacturer: Vibration Research
Registration number:  M11008
Olympus i-SPEED 3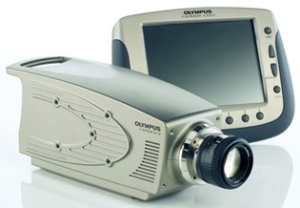 Olympus i-SPEED 3
The Olympus i- SPEED 3 is a high-resolution, ultra-low-sensitivity, high-speed camera capable of shooting at up to 150,000 fps.
Specifications :
– Custom designed CMOS 1280 x 1024 sensor
– Full resolution recording possible up to 2000 f/s
– 150.000 f/s maximum recording speed
– Monochrome or colour recording
– Gigabit Ethernet connection
– Trigger options 0.5V TTL / Normal / BROC / ROC / Motion video
– F – bayonet lens connection
– The camera can be operated via its own dedicated control display unit (CDU ) or via PC using a gigabit Ethernet connection.
FLIR SC325 infrared camera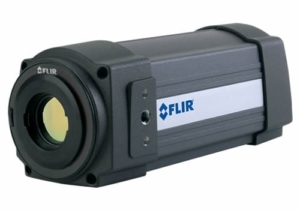 Features:
– The sensor has a resolution of 320×240 pixels, allowing for greater accuracy and detail.
– Image frequency: 60 Hz
– External signal controlled recording start and stop (FLIR R&D software).
– Thermal sensitivity: <50 mK - Gigabit Ethernet communication connection - Real-time 16-bit image processing
Olympus IPLEX MX video endoscope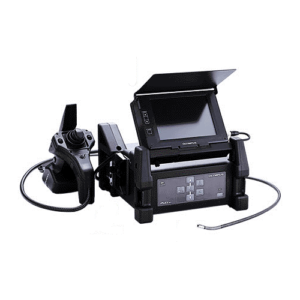 Olympus IPLEX MX video endoscope
The IPLEX MX is a lightweight, ultra-compact, portable industrial video endoscope system with its own lithium-ion battery. The battery provides two hours of operating time. The endoscope weighs only 4.4 kg and can be used with 3m or 5m flexible cables. It can be used for a wide range of applications: gas turbine, engine inspection, gearbox inspection, etc. The images can be immediately transferred to a PC for immediate viewing. The IPLEX Manager software allows editing of the images. The 6.0 mm diameter cable and 4-way articulation capability. Other features include digital zoom, extended exposure and digital image capture. Monochrome boost mode further increases image sensitivity, ideal for shooting in low noise conditions.
Features:
– 3m long / 6mm diameter flexible cable
– Cable can be moved with a joystick, with 120° rotatable endings in any direction
– The end of the cable is equipped with LED lighting, providing a 120° field of view
– Moving colour image can be viewed on the 5.6 inch monitor
– Image can be stored in Jpeg format on Compact Flash card and on PCMCIA card via laptop and adapter.
– Image brightness and focus can be adjusted.
– The unit has BNC and S-video outputs
Translated with www.DeepL.com/Translator (free version)
Spektruma GDA Alpha GDOES
Fuel cell demonstration platform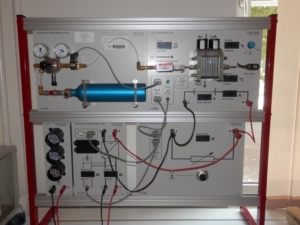 Hydrogenation device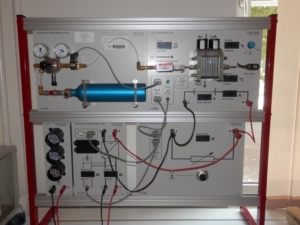 Hydrogenation equipment for testing hydrogen storage in metallic glasses
Wetting angle measuring equipment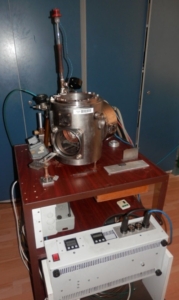 Wetting angle measuring equipment
Wetting angle measuring equipment suitable for testing by the sessile drop method. Capable of reaching high temperatures (1200°C), resistance heated tube furnace with exchangeable atmosphere.
Thermoelectric measuring equipment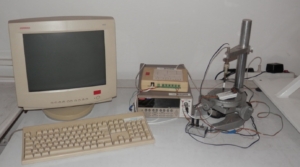 Thermoelectric measuring equipment
The measuring equipment consists of a computer that controls the measurement and collects the data, a voltmeter and the hot and cold electrodes. The Seebeck coefficient of the material under test can be determined.
Safety and Security Laboratory
Cohda Wireless MK5 OBU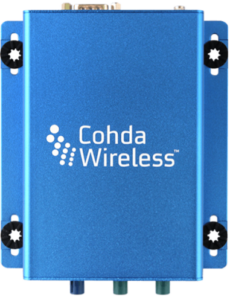 Cohda's fifth-generation On-Board Unit (OBU), the MK5 is a small, low-cost, rugged module designed to enable secure and reliable vehicle-to-vehicle (V2V) and vehicle-to-infrastructure (V2I) communication. It can be retrofitted to vehicles for aftermarket deployment or field trials. It serves as a key component in Cooperative Intelligent Transport Systems (C-ITS) by facilitating the exchange of real-time data between vehicles and infrastructure, helping to improve road safety, traffic efficiency, and overall driving experience.
Specifications:
Dual DSRC (IEEE 802.11p) radio
Powerful processor running Cohda software applications.
Global Navigation Satellite System (GNSS) that delivers lane-level accuracy.
Integrated security
Hardware acceleration
Tamper-proof key storage
NXP chips with Cohda firmware
Supports DSRC (IEEE 802.11p) and Ethernet 100 Base-T
Quantity: 4pcs
Vector VT System (modular HiL testing platform)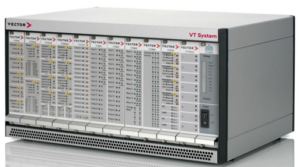 Functional testing of an ECU must be performed in an environment that the ECU sees as identical to a real vehicle. Besides connecting the communication network lines, it is also necessary to connect the I/O interfaces. VT System modules are capable of simulating sensor and actuator signals and enable connecting real sensor and actuator hardware to the ECU. Our current setup consists of 10 modules inside a 19-inch desktop case.
Installed modules:
Real-time module VT6060 drives the VT System hardware and handles the execution of the real-time test, so the user's PC doesn't influence the behavior of the test system.
Measurement and simulation modules:

VT1004A – Provides outputs for the ECU, which are connected to actuators such as servo motors or lamps.
VT2004A – Provides inputs for the ECU which are connected to vehicle sensors such as temperature probes or switches.
VT2848A – Provides up to 48 general-purpose digital I/O signals connected directly to the ECU or to other parts of a testbench.

Network interface modules

VT2710 – Serial Interface Module with support for automotive (PSI5, SENT) and universal (SPI, I2C, UART, etc.) serial communication.
VT6204 – CAN/LIN/FlexRay Network Module.
VT6306 – Ethernet Network Module with support for Automotive Ethernet.

Other modules:

VT2832 – Switch Matrix Module
VT7900A – Extension Module
VTC8920B – Power Supply Module
Vector VN8900 system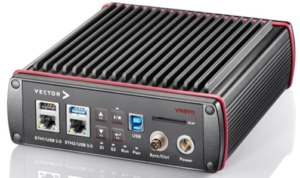 The VN8900 system consists of two main hardware components:
VN8911 – Base Unit with integrated memory and processor for executing simulations and time-critical program sections in stand-alone operation. It contains the "Extended Real Time" (ERT) feature, designed to improve the latency and the determinism of CANoe and CANape applications. Configuration and evaluation of the simulation are performed on a standard PC (in CANoe), while the simulation and test kernel are executed on the base unit (CANoeRT). Communication between the two computers is routed via a USB cable or via Ethernet.
VN8970 – Plug-in Module with modular network interface for accessing various combinations of FlexRay/CAN/CAN FD/LIN/J1708 buses and an additional I/O channel for connecting analog/digital devices.
Key features:
Stand-alone execution of real-time simulations and test functions.
Modular network interface provides flexible adaptation to the measurement environment and existing buses.
Parallel access to multiple bus and I/O channels.
Suitable for mobile operation thanks to its compact size and robust design.
The application areas include system simulations or bypassing applications with Simulink, remaining bus simulations, gateway implementations, test executions (MiniHIL) or data monitoring.
Vector VC121-12 ECU with VCA0101 Breakout Box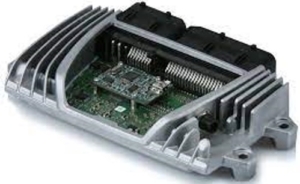 VC121-12 is a universal ECU designed for automotive development purposes. It contains a main controller, a System Basis Chip (SBC) and a safety controller as well as several network interfaces and I/O ports. It can be used as a gateway or I/O controller. It is ideal for rapid development of prototypes and for use in small production runs.
Specifications:
Main controller:SPC56EC64, 120/80 MHz, Dual-Core, 1.5 MB Code Flash, 4×16 kB Data-Flash, 192 kB RAM
Safety controller: STM8AF62, 16 MHz, 32 kB Flash, 2 kB RAM
System Basis Chip: SBC MC33905
Network interfaces: 6 x CAN, 2 x LIN, 1 x FlexRay, 1 x BroadR-Reach
The VCA0101 Breakout Box is designed to connect measurement and communication equipment to the VC121-12 with minimal effort. The Breakout Box includes 4mm laboratory jacks for all supply, input, and output signals. The communication interfaces are accessible through D-SUB9 plugs.
Vector VN7640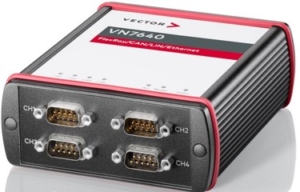 The VN7640 provides a flexible interface for FlexRay, CAN FD, LIN (K-Line) and J1708 bus systems via USB or Ethernet connection to the host computer.
Due to the various channel combinations the VN7640 is an ideal interface for laboratory or developer workstation. Because of its compact and robust design, it is also suitable for mobile applications.
Vector VN5610A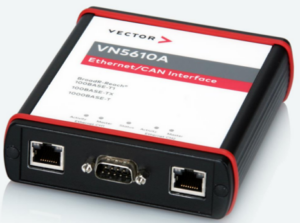 The VN5610A interface enables the transparent monitoring and logging of Ethernet data streams and CAN events with minimal latency times and high-resolution time stamps. It supports common (10BASE-T / 100BASE-TX / 1000BASE-T) and automotive 100BASE-T1 (OPEN Alliance BroadR-Reach) Ethernet standards.
Application areas include simple bus analyses, complex remaining bus simulations as well as running system diagnostics and ECU calibration (e.g., with CANoe.Ethernet).
Raspberry Pi 4 Model B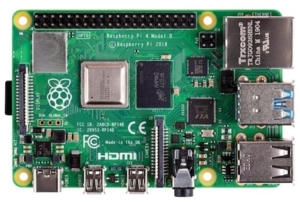 The Raspberry Pi 4 Model B is a compact, single-board computer with a wide range of features and capabilities, making it an ideal platform for educational and research-oriented prototyping projects. Its compact form factor, low power consumption, and robust design make it portable and suitable for diverse settings.
The board runs a Linux-based operating system, which grants access to a vast ecosystem of open-source software tools and libraries and provides a faster and easier programming experience than traditional microcontrollers. While it is an effective controller in its stock configuration, the support for add-on boards, displays and other I/O devices allows easy extension and customization.
Specifications:
64-bit quad-core processor
4 GB RAM
Dual display support
4 / 5 GHz wireless LAN
Gigabit Ethernet
Bluetooth 5.0
Raspberry Pi OS (or Ubuntu Linux)
Quantity: 7pcs
PiCAN 3 – CAN-Bus Board for Raspberry Pi 4
PiCAN 3 board is a CAN bus interface for the Raspberry Pi 4.
Specifications:
Microchip MCP2515 CAN controller
Microchip MCP2551 CAN transceiver
Connection via a D-SUB9 connector or screw terminals
Integrated 3A switch mode power supply that can power the Raspberry Pi as well.
Programming in C or Python.
Easy to install SocketCAN driver.
Quantity: 3pcs
Simulation frameworks
Virtual Crash
Vector DYNA4
Vector CANoe
Open-source software:
Advanced Powertrain Laboratory
Cummins test engine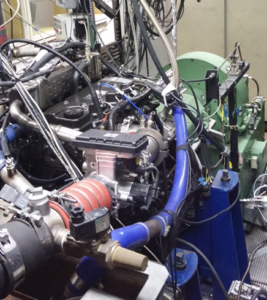 Cummins ISBe 170 30
4-liter common rail turbocharged commercial vehicle diesel engine equipped with a LP and a HP EGR system and with an intercooler. The engine can be braked with an eddy current brake machine, and the engine can be controlled via various actuators. It is suitable for various engine and emission tests, and cylinder pressure indication can be done as well.
Kondicar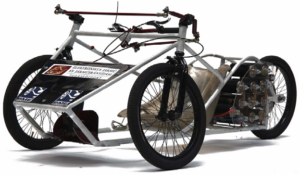 A three-wheeled vehicle powered by a 3.9 kW electronic commutation motor. The power supply is provided by 12 series-connected 2.5V and 3600F ultra-capacitors. The resulting 30V and 300F power supply has a maximum load current of 500A and a maximum charging current of 750A. The system is capable of regenerative braking. Lifetime research is conducted on the vehicle.
Vehicle Dynamics Laboratory
BMW M2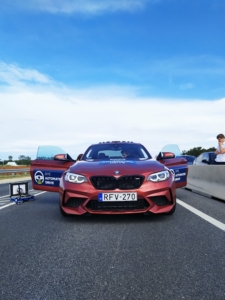 Test vehicle equipped with steering and pedal robots. It is equipped to test vehicle control tasks. Equipped with high precision GPS, it can also be used to test tracking solutions. Thanks to its rear wheel drive, it can also be used to test scenarios on the limit and under the limit of the traction.
Land Rover Evoque test car equipped with sensors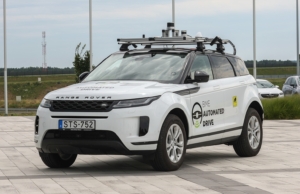 A Land Rover Evoque test vehicle, equipped with a range of sensors and systems for self-driving cars.
NAT-RQH-400x:

High accuracy GNSS system
RLG-based navigation, surveying and guidance system
Ring laser based IMU, providing very accurate motion tracking in case of GNSS signal loss

Ouster OS2 LiDAR

128 channels
V-FOV: ± 11.25°

Ouster OS0 LiDAR

64 channels
V-FOV: 0 to -45°
2 units

Seconx camera

4pcs – front, side and rear
120° H-FOV
IP69K

FLIR Blackfly S GigE camera

hardwer trigger
2MP sensor
behind the windscreen

Choda MK5 OBU

time synchronization
NTP time server on the local network

Nvidia Drive PX2 platform

On-board RTMaps framework for synchronised data recording
Smart Fortwo self driving vehicle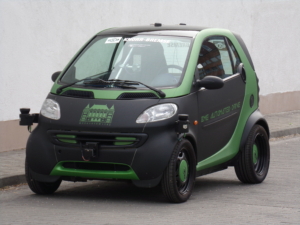 Test vehicle with self-driving capabilities. Equipped with camera and lidar sensors, it has the dSpace Autobox system for vehicle control and the high accuracy GNSS system for ViL tests.
iNAT-RQH-400x GNSS
iNAT-RQH-400x: RLG Based Navigation, Surveying & Control Systems (0.001 °/sqrt(hr), 0.1…2 nm/h)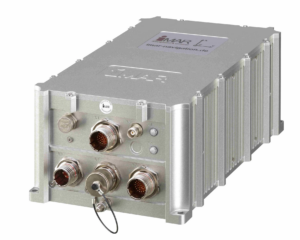 High accuracy GNSS system
RLG-based navigation, surveying and guidance system
Ring laser based IMU, providing very accurate motion tracking in case of GNSS signal loss
Quantity: 1pc
Imar iNAT M200 GNSS
Imar iNAT M200 Small Light Weight MEMS Based Navigation, Surveying & Control System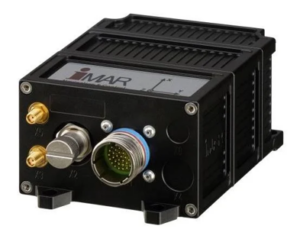 GPS, GALILEO, Beidou, GLONASS support
MEMS based IMU unit for measuring the displacement for the duration of GNSS signal dropout
Quantity: 1pc
Ouster OS2 LiDAR
Ouster OS2 Long Range LiDAR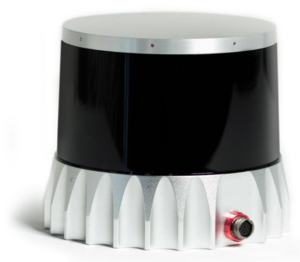 128 channels
Vertical FOV: ± 11.25°
Uniform beam configuration
240m range
Quantity: 2pcs
Ouster OS1 LiDAR
Ouster OS1 Mid-Range LiDAR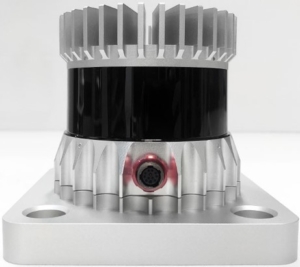 64 channels
Vertical FOV: ±22.5°
Uniform beam configuration
120m range
Quantity: 2pcs
Ouster OS0 LiDAR
Ouster OS0 Close Range LiDAR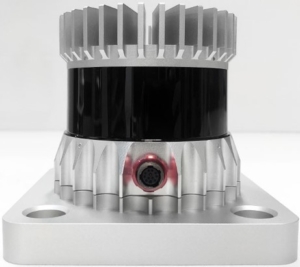 64 channels
Vertical FOV: 0° to -45°
Below-horizon beam distribution
50m range
Quantity: 2pcs
SEKONIX NVidia Drive Camera
SEKONIX NVidia Drive Camera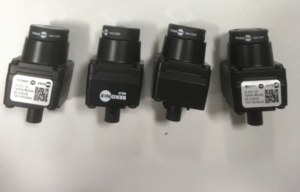 1928 x 1208 resolution (2.3M pixels)
Optical format: 1/2.7-inch
60° and 120° horizontal FOV
IP69K environmental resistance
Quantity: 12pcs
FLIR Blackfly S GigE Camera
FLIR Blackfly S GigE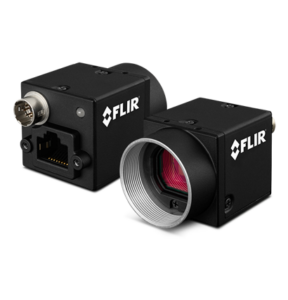 Hardware triggering option
"Global shutter" image capture
2MP imaging sensor
Quantity: 30pcs
FLIR ADK Thermal Imaging Detector
Thermal Imaging Detector: Boson™ – Uncooled VOx microbolometer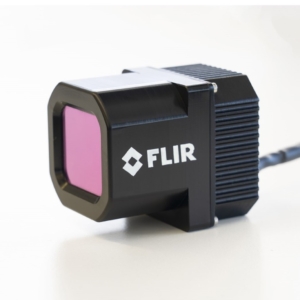 Pixel size: 12 µm
Image frequency: full frame (30 & 60 Hz selectable), 9 Hz optional
Resolution: 640 × 512
FOV – Horizontal: 24°
IP67
Quantity: 2pcs
Smart Micro TRUGRD UMRR12 Radar
Smart Micro TRUGRD UMRR12 Radar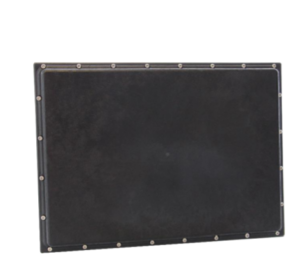 24GHz frequency
300m range
0.5m accuracy
12 separate bands
255 separated vehicles
100ms cycle time
Quantity: 12pcs
Nvidia Drive PX2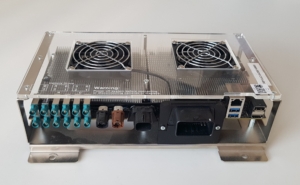 Choda MK5 RSU and OBU
Cohda MK5 DSRC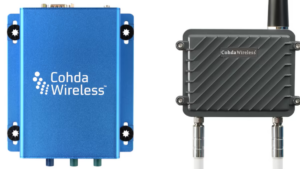 10 MHz bandwidth
3-27 Mbps data rate
5.9 GHz frequency band
Quantity: 5pcs
Varjo XR Headsets
Augmented reality glasses and their licences. There are also 4 "base stations" to track the glasses in space.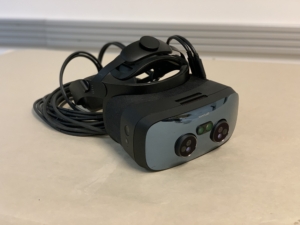 2 pcs Varjo XR-1 Developer Edition