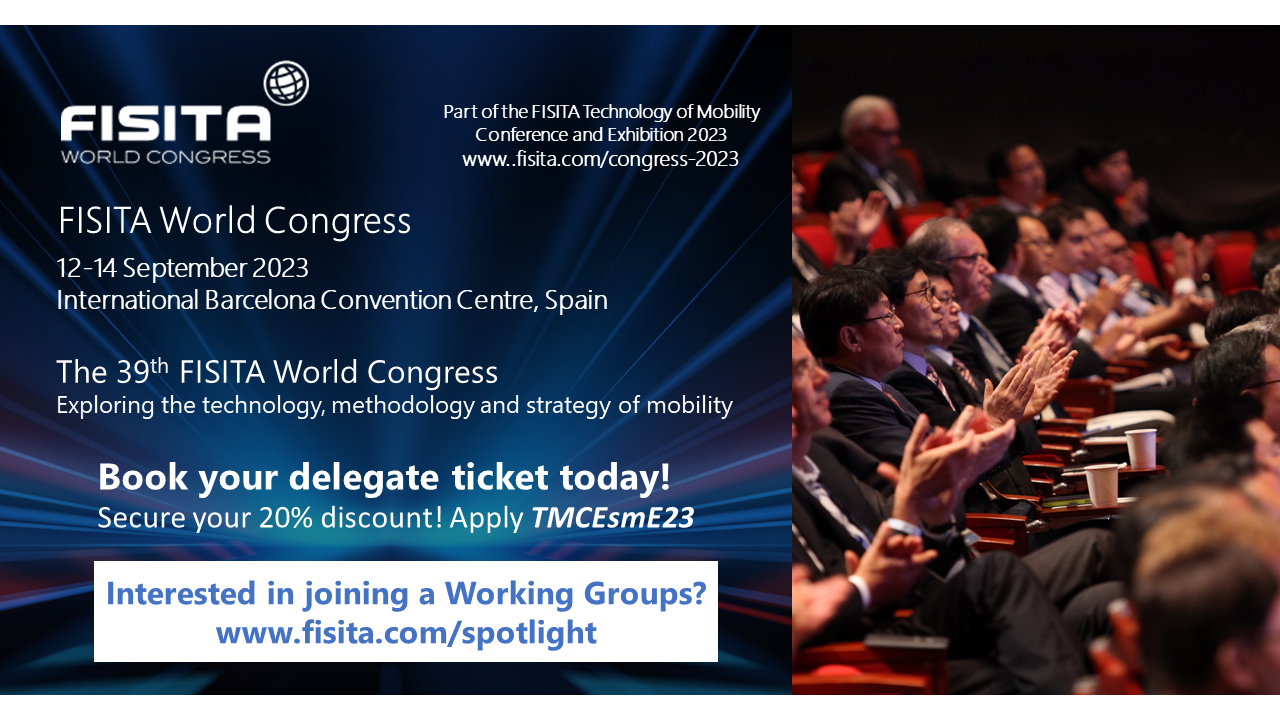 Join FISITA at EuroBrake 2023 … 9 weeks to go!
Book your delegate ticket today – secure a 20% discount!
The 12th EuroBrake 2023 is taking pla ce during 12-14 September 2023 at the International Barcelona Convention Centre, Spain.
EuroBrake is the world's largest annual brake technology conference. EuroBrake will see contributors and attendees gather from the major brake industry stakeholders, including passenger car and commercial vehicle component suppliers and manufacturers, raw material suppliers, and leading brands in rail, aerospace, and academia.
The event will deliver technical sessions to hundreds of delegates, with high profile keynote speakers and roundtable discussions throughout the week, as well as provide business engagement opportunity within an exhibition featuring the leading mobility systems brands.
The conference will deliver 130 technical papers, within 23 technical sessions and 3 panel sessions and a significant exhibition, delivering an excellent knowledge share, professional networking and B2B engagement opportunity throughout the three days of EuroBrake 2023.
Book your delegate ticket today & receive 20% discount! Apply TMCEsmE23
View the registration page to access all delegate package options here
Find out more about FISITA's event programme www.fisita.com/eurobrake
Keynote Speakers Include:
*Dr. Marko Weirich, Senior Manager CAE Functions & Analytics, Daimler Truck AG
*Pierre Garnier, Senior Manager Brakes Engineering, Jaguar Land Rover
*Tomasz Gonet, Component Engineer, Jaguar Land Rover
*Roy Link, Chairman & Chief Executive Officer. Co-owner, Link Engineering Co.
Ps. Interested in finding out more about FISITA's Working Group Forums & Strategy Sessions taking place at TMCE?  Throughout the three-days FISITA will be hosting the inaugural FISITA Working Group Forums and FISITA Climate Change Sessions.  Join the FISITA team in the Knowledge Lounge!
*Carbon Neutral Mobility Working Group          Tuesday 12th September                 10:00 – 12:00
*Digitalisation Working Group                              Tuesday 12th September                 15:15 – 17:15
*Industry Disruption Working Group                   Wednesday 13th September           15:15 – 17:15
*Intelligent Safety Working Group                       Thursday 14th September                 10:00 – 12:00
*Next Generation Mobility Working Group        Thursday 14th September                15:15 – 17:15
Enquiries: www.fisita.com or contact the FISITA team: Daniele Ventriglia, FISITA Technical Manager,
Book your delegate ticket today & receive 20% discount! Apply TMCEsmE23
View the registration page to access all delegate package options here
Find out more about FISITA's event programme www.fisita.com/eurobrake
#TMCE #FISITA #EuroBrake #workinggroups #carbonneutral #digitalisation #industrydisruption #intelligentsafety #nextgenerationmobility #climatechange #membership #STA #Barcelona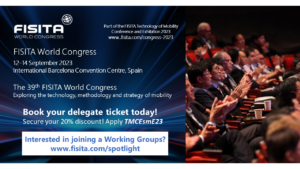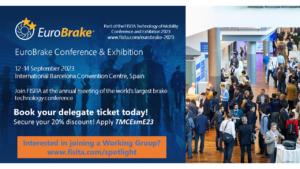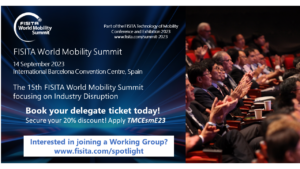 https://auto.bme.hu/wp-content/uploads/2023/07/Society_Congress_WG_comms_4.png
720
1280
Virt Márton
/wp-content/uploads/2022/02/logo_en-1.svg
Virt Márton
2023-07-10 14:36:57
2023-07-10 15:14:11
FISITA TMCE 23 Conference